| | |
| --- | --- |
| My High School Academic Struggles | |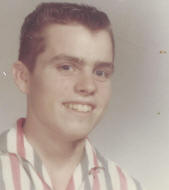 My High School Yearbook Photo


I began my high school days in 1964 at the Owen Sound Collegiate and Vocational Institute (OSCVI) in a general studies program. This was a five year program that included grades nine to thirteen. After nearly failing in grade nine I switched to a trade-focused program for grade ten. This program combined hands-on experience with academics which allowed me to do much better in school. It also introduced me to trades training and spurred an interest electronics that continues today.

In spite of my moderate success in my electronics studies I continued to struggle academically. This continued until I failed to meet the required academic level in grade twelve. This was the second time I had failed a grade having previously failed grade seven at St Mary's so I felt i had no choice but to drop out of school.

How could this possibly have happened? How could a person who eventually went on to graduate with distinction from one of the most academically rigorous programs in Canada? Well, it was possible and it did happen. At the time I just felt that I wasn't cut out to be an academic and at best should be looking at a manual labour or trades career. As it turned out I wasn't stupid and I was cut out to progress academically. It was just that I learned differently from my classmates. This was discovered early in my naval career and I was given strategies on how to overcome my learning disability. I discuss this on the Learning Disabilities page in the menu at the left.
Clipping of My Routine on the High Bar
It wasn't that I wasn't trying to do well academically. At first I devoted tremendous energy into my academic studies. However it seemed that it didn't matter how much time I spent trying to learn I just didn't see any return on my efforts. As a result I pretty much gave up on academics and began to focus my energies on sports - mostly individual sports like gymnastics and weight lifting. These activities complimented each other and I began to see real results for my efforts. I perfected strong routines on the Rings, Parallel Bars, Pummel Horse, Vaulting and High Bar. I won several awards for gymnastics two years in a row. I attended several out-of-town events as part of the school's gymnastic team and although I didn't medal I did perform quite well. I also participated in weight lifting competitions and also earned couple of weight lifting medals for my weight class.

I was able to help others improve their gymnastic skills as a volunteer instructor at the YMCA. I spent many of my Saturdays at the local YMCA teaching basic gymnastics skills to young students. I was also able to take some of my students to YMCA gymnastic events in surrounding communities.

The only other interest I had in high school were cars. One of the topics I studied in the trades program was Automotive Technologies. This introduced me to auto repair techniques which encouraged me to buy my first car - a 1961 Studebaker Lark when I was only 15. It was the first of three cars I bought before joining the Navy. The others were a 1957 Studebaker Champion and a 1963 Hillman Minx.
---