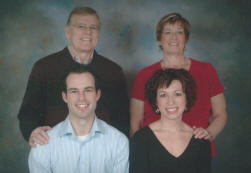 The Hutton Family

Although some memories may differ there were always times for us to get together as a family in spite of my demanding work schedule. I recall a summer camping trip to Manning Park on the mainland when we lived in Victoria. I believe this may have been one of the first outdoor experience that the kids will remember.

Aside from the many trips to Nanaimo when we lived in Victoria we also made the odd Ferry Ride to the mainland to visit our friends the Clarabuts or trips to the long sandy beach at Parksville. Although, like most teenagers the kids often preferred not to travel with their parents but welcomed the opportunity to stay home with their friends when they were older.

We always had great 'Family times' around Christmas and other holidays both when we were in Victoria with the kids grandparents and later when we moved to Toronto and Sudbury. The photos of Brian at the right show one such Christmas when Brian got a new suit.

Many of the photos below and to the right speak for themselves about our family times. Robyn's wedding was a big event for our family. Before the wedding Robyn and me spent some time together picking out a song for our Father-Daughter Dance. We finally selected; "I Loved Her First" by Heartland.

This song was so appropriate for us because when Robyn was born via emergency Cesarean Operation, I got to spend the first hour of her life with her while her mother was still under sedation. I rocked her in a rocking chair and just talked to her like she was ten. She just stared at me attentively with those big brown eyes like she understood every word I was saying.

Read the Lyrics and hear Song.

Her wedding day turned out to be a very special day for both of us. It was a perfect venue and Robyn was the perfect bride. She made me very proud that day to be the Father of the Bride.